NEW ORLEANS – Mardi Gras is entering the age of the smart phone.
This year Carnival revelers can get a new free application for smart phones that serves as a built-in parade tracker.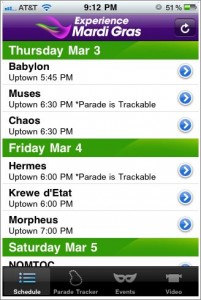 The parade tracker relies on devices placed on the head and tail floats of select parades, said Rob Hudak, the interactive creative director at Zehnder Communication Inc., a New Orleans company that created the app in partnership with television station WWL.
The Times-Picayune newspaper reports that the free app, called Experience Mardi Gras, is in its early stages but will allow parade-goers and those hoping to avoid parade traffic to track up to one parade every day starting with Muses on March 3 and ending with Zulu on Fat Tuesday.
The app also features a post-parade events section and live streaming video of select parades.
"This is version 1.0, and we hope it grows into a more robust app experience," Hudak said. "We're talking about adding social and augmented reality components. Something almost like an extension of the Mardi Gras experience."
There are a handful of apps connected with Carnival, but Zehnder and WWL's app actually provides real-time tracking of Carnival parades, without relying on user-generated reports.
Production of the app began in December and comes on the heels of a successful Voodoo Experience music festival app that the agency launched in O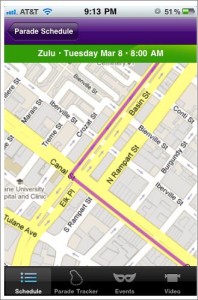 ctober. With the Voodoo Experience app, concertgoers could point their smart phone cameras at a band and the app would tell them who was currently on stage. It would also give them information about the band and who was playing next.
By panning the camera around the premises, users could see where they could go to the bathroom or where they could get their next beer. By pointing it at a vendor, users could look at the menu items available at that concession stand.
Hudak envisions using the same concept for the Experience Mardi Gras app by 2012.
"An idea we're throwing around is doing virtual throws, so that when you point your phone at a float, it'll have a button that you can press to get a throw, which could be a coupon to a sponsor," he said.
Sponsors now include Zatarain's and Tabasco, but Hudak expects to add restaurants and bars on the parade route in future versions of the app.