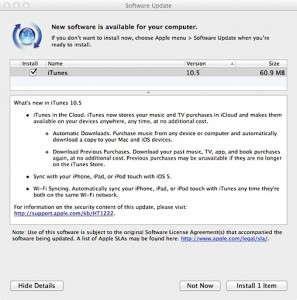 Apple today prepared iOS, Mac and Windows users for tomorrow's launch of iOS 5 and iCloud by shipping iTunes 10.5.
The update to Apple's music player and iOS App Store portal also included a massive number of security patches: iTunes 10.5 fixes 79 flaws in the Windows edition.
iTunes 10.5 will be required to synchronize an iPhone, iPad or iPod Touch powered by iOS 5, the mobile operating system upgrade Apple will release Wednesday.
It also preps users' music and other media content for storage on iCloud, the follow-on to 2008's problem-plagued MobileMe service that will sync data between devices, Macs and Windows PCs, and store content and other files on Apple's servers.
"iTunes now stores your music and TV purchases in iCloud and makes them available on your devices anywhere, any time, at no additional cost," Apple said in the note accompanying iTunes 10.5.
Last June, then-CEO Steve Jobs dubbed that feature "iTunes in the Cloud," which includes an automatic download mechanism that deposits tracks bought via, say, an iPhone, onto a Mac or Windows system running iTunes.
Jobs' participation in the unveiling of iCloud and iOS 5 was his final new product presentation for Apple, and his second-to-last public appearance. Jobs, 56, died last week.
Other features bundled in the update include Wi-Fi synchronization of devices and computers, a complement to iOS 5's "PC Free" component.
iTunes 10.5 made no mention of "iTunes Match," the $25-a-year service that Apple intends to unveil later this month. Match will scan a customer's iTunes collection, match those tunes that were not bought through Apple's store against the 18 million tracks in Apple's library, then make the matches available for instant downloading to a maximum of 10 devices.
iCloud will be free to owners of iOS 5-powered mobile devices and Macs running OS X 10.7, aka Lion.
iTunes 10.5 also included 79 security patches, all of them affecting only the Windows Vista and Windows 7 version of the player and e-store.
The iTunes update was expected: Apple traditionally rolls out a new version prior to the availability of a major iOS upgrade.
Apple will also probably ship an update to Lion on Wednesday to add iCloud-connectivity features to the newest version of Mac OS X.
iTunes 10.5 can be downloaded from Apple's website, but Mac users can upgrade by selecting "Software Update" from the Apple menu. Windows users already running iTunes will be alerted by the Apple Software Update tool.
Apple also said it was unlinking QuickTime from iTunes on Windows, and no longer requiring PC owners to download the former alongside the latter.