Best Buy lowers its price for ThunderBolt to $249.99 for three days only
Computerworld – Online retailer Wirefly said Wednesday its first day of pre-sales of the HTC ThunderBolt smartphone were 400% higher than any other cell phone pre-sale in the company's eight-year history.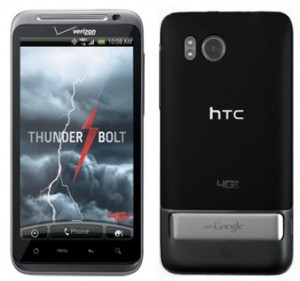 Wirefly didn't provide the number of pre-orders of the Android-based smartphone, the first to run on the Verizon Wireless LTE network, but said the smartphone accounted for 25% of all of its sales on Tuesday. The pre-orders started at 3 a.m. ET on Tuesday and Wirefly shipments begin Thursday, when Verizon will also start selling it.
Wirefly calls itself the number one online retailer of cell phones, smartphones and cell phone plans. However, it does not sell phones that run on AT&T, nor does it sell the best-selling iPhone.
The pre-sale record for ThunderBolt shows there is pent-up demand for the first device to launch on Verizon's faster LTE network, said Andy Zeinfeld, CEO of Simplexity, the parent company of Wirefly. "Our sales volume far surpassed our expectations," he said in a statement.
A Wirefly spokesman added: "If there was any lingering doubt that the ThunderBolt by HTC was going to be lightning hot, Wirefly's pre-orders smashed that doubt to smithereens."
Wirefly didn't credit its $50-lower price for the device as a reason for the increased sales. It offers the ThunderBolt for $199.99 with a two-year service agreement from Verizon, while Verizon will offer it for $249.99.
Various Web sites, including Amazon.com, have historically offered smartphones at lower prices than the carriers, using the discounts as a way to attract attention to their sites, analysts said.
Retailer Best Buy advertised the ThunderBolt in Sunday's newspaper circulars for $299.99 for several weeks, helping build interest in the smartphone, but suddenly lowered the initial price to $249.99 on Tuesday, the same day of the Wirefly pre-sale for $199.99.
But Best Buy said in a press release that it was dropping the price to $249.99 only through March 19, including online pre-orders, then kicking the price back up to $299.99 on March 20.
Best Buy's move indicates customer interest in the first LTE device from Verizon, along with the pre-sales by Wirefly. "The HTC ThunderBolt has generated a lot of excitement for us since it was announced," said Scott Anderson, head of merchanding for Best Buy Mobile, in a statement. "Customers have already spoken loud and clear — people want this phone and we're excited to deliver it on March 17."