First-class passengers on American Airlines domestic flights are to be provided with the Samsung Galaxy Tab 10.1, which they will be allowed to play with during the flight.
The tablets will replace the current in-flight entertainment system, are Wi-Fi enabled and will offer internet access during the journey, for an additional fee. The tablets will be specially optimised for the airline, with extra memory and an updated user interface for easier use of the available in-flight entertainment.
Six thousand of the tablet computers will be deployed, on Boeing 767 flights between the John F Kennedy airport in New York City and Los Angeles or San Francisco, and between Miami and Los Angeles. They will also be available on 767s flying to South America and on 757s flying between Boston and Los Angeles.
The launch date is unclear, with Samsung Mobile and American Airlines saying that the tablets will be rolled out "later this year".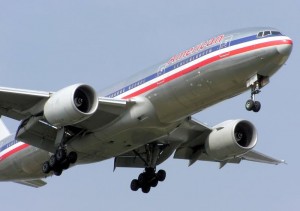 Various other airlines have also started to move towards using tablet technology in flight. The Australian airline Jetstar, a Qantas subsidiary, has tested the use of iPads, while Alaska Airlines recently started using iPads instead of their paper flight manuals.