Time Warner Cable is today launching a new iPhone application that allows customers to watch live television from their iPhone or iPod Touch device as well as control, manage and program their DVR. With the new app, users can browse the TV guide, favorite channels and search for programs by title or episode name.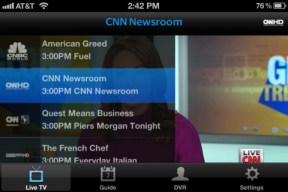 There is a small catch to all this live TV-viewing, of course: it only works within the home.
The app joins TWC's iPad app, released back in March 2011 and the Android app launched last month. The new iPhone version is actually a universal app, meaning one download now supports both the phone and tablet platforms.
As you may expect, you can't watch live TV just anywhere – the iOS device has to be connected to the home's Wi-Fi network in order to function. It also offers a number of features typical for TV provider mobile apps, including a remote control functionality, the ability to program your DVR (this feature also works remotely), and the ability to configure parental controls, among other things.
The app is fairly backward-compatible, however, as it works on iPhone 3GS and up, iPod Touch (3rd or 4th gen) and any iPad, all of which have to run at least iOS 4.3. Customers will also have to have the Navigator set-top box or a DVR in their home, as other models may not function properly.
TWC isn't the first to add mobile phone support for its TV service. Comcast's app arrived on the scene in May 2011, Cablevision launched on iOS in August and Verizon FiOS has FlexView, which works on the iPad and Android (but not iPhone).
TWC TV for iOS is available here on iTunes.