EarthCam, the world's premiere webcam network, will once again capture the experience of Mardi Gras from the heart of New Orleans, as live cameras stream the biggest outdoor party going on right from Bourbon Street through Shrove Tuesday (or Fat Tuesday), March 8th.
Can't make it to New Orleans for all of the Mardi Gras hoopla? With EarthCam anyone can, as the webcam experts will transmit three live views, including streaming video with audio, of the nation's most decadent party at both the street level and balconies. The excitement is available from any computer or mobile device (and EarthCam's "Mardi Gras Live" and "Live Cams" mobile apps are available at http://mobile.earthcam.com/iphone/applications.php).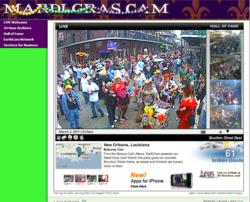 EarthCam's first camera lets viewers enter the famous Cats Meow and enjoy karaoke Mardi Gras style. The second gives you the rare opportunity to watch and listen to the party goers on crowded Bourbon Street as "the royalty" showers them with beads and trinkets. The third webcam is actually street level from the corner of Bourbon and St. Peter's streets enabling observers to soak up the sights and near hysteria from the midst of Mardi Gras in the Big Easy. EarthCam cameras are currently live with ongoing views of the preparation and the festivities and will continue live transmission beyond the massive morning after clean-up.
EarthCam is the global leader in webcam technology and software. Founded in 1996, EarthCam provides live streaming video and megapixel cameras, along with complete managed services for consumers and corporate clients in more than 1,500 cities throughout all 50 states and 46 countries. The company's expertise includes developing technology to manage camera networks and delivering millions of images daily to 192 countries. EarthCam holds the expertise and knowledge to offer consumers the ability to view, create and share webcam content at anytime and in any location in the world. Clients include Walt Disney Pictures, Clear Channel Communications, PBS, ABC, FOX, CBS, NBC, Weather Channel, Discovery Channel, CNN, Turner Construction, Major League Baseball, NFL, This Old House, Skanska USA, NASA, Coca-Cola, Sprint, Volkswagen, GE and National Geographic.
Visit EarthCam at http://www.EarthCam.com.
Visit our Mardi Gras cameras at http://www.EarthCam.com/mardigras