New Orleans Technology Services:  a fresh approach to IT consulting.
Instead of charging to fix per problem, N.O.T.S. provides unlimited support for your IT infrastructure for a flat rate. Because when IT companies only get paid when they fix problems, can they really be expected to prevent them?
Our services fill the niche of an outsourced technology department for business and non-profit organizations. We're different from traditional IT companies because we provide and support your business IT infrastructure for a fixed price – we're rewarded for success, not failure.
We were troubled to find that most outsourced IT service providers are actually out-of-state service resellers, who farm out your service needs to the lowest bidder through auction-style websites. Nearly 90% of their service fees go to their "administrative" costs, not the local technician. We are locally owned and operated. We hire only the most reputable professionals based on skills and experience. Not simply the lowest bidder.
Over 20 years experience in IT with systems administration, web design and hosting, data protection and recovery allows us to implement proven solutions to protect your data and your image, which are typically the most valuable assets to your organization.
Managed Service plans for your business IT needs.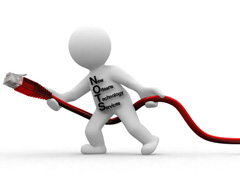 Our Managed Service plans provide for more accurate budget forecasting for technology support. Our consulting rates are based on the number of workstations, not hours. You pay one low flat rate each month no matter how many times you've needed our help. Nice huh?
The following services are provided for the fixed monthly base price without any hourly support cost:
Basic proactive system maintenance including service packs and regular security and spam filtering updates for Windows, Linux, or Mac OS X systems and related applications
Remote monitoring of internet connections, site-to-site virtual private networks (VPNs), mail servers, backup systems
Annual visit to client site(s) with audit of IT systems and costed recommendations report
Advice for all IT systems hardware and software purchases, including sourcing quotations from different suppliers where required by funders
Dealing with hardware warranty issues for all equipment purchased through us
Basic IT systems advice by phone or email (excludes more involved or detailed consulting work)
Compare our unique monthly Business Unlimited consulting rates to a full time IT staff of just one employee and you can quickly see the financial benefit.
Contact us for more information on how New Orleans Technology Services can fill all your business's IT consulting needs.