Remote backup for business computers
New Orleans Technology Services Remote Backup services can backup Microsoft Exchange Mailboxes, Microsoft Exchange Server, Microsoft SQL Server, MySQL Database Server, Oracle Database Server, Lotus Domino, Lotus Notes, In-File Data and volume shadow copy.
No more Tapes, USB drives, forgotten or missed back ups, constant failures. Backups are now finally automated and reliable.
Remote Backup and Data Storage Services are included in all Server Unlimited Support Plans at no additional cost.
What can New Orleans Technology Remote Backup do?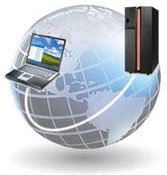 Unlimited No. of Backup Set
Backup Schedule
Continuous Data Protection
Daily, Weekly, Monthly, Yearly
Multiple Schedules
Encryption Algorithm
128-bit/256-bit
Configurable by end-user
Triple DES
AES
Add-On Module
Network Attached Storage (NAS)
MS Exchange
Brick Level Mail Backup for MS Exchange
MS SQL
Lotus Domino/Notes
Oracle
MySQL
In-File Delta (simple)
In-File Delta (advanced)
Volume Shadow Copy
Applicable O.S. Platform
Windows 95/95/ME/NT/2000/XP/2003/Vista
Redhat Linux – 6.0 or above
Mac OS X – v10.2 or above
NetWare – 5.1 or above
UNIX – Solaris, AIX, HP-UX, FreeBSD
Retention Policy
Simple – by days/jobs
Advanced – by weeks, months, quarters and years
Backup job initiated from New Orleans Technology Services New Orleans Technology Services Remote Backup
Run custom OS commands before/after a backup job
Filter files by extensions
Filter files/folders by any user defined patterns
Logout reminder
Offline backup reminder
Local copy
Web restoration
24 languages supported