Environmental sustainability is important to New Orleans Technology Services.
Recycle Your PC, Laptop and Monitor
If all you want is to dispose of your unwanted equipment — regardless of brand — we can help you do that.  Just call us 504-407-1436 to receive a free prepaid shipping label.  Then pack up your equipment using your own box and send it off.  Or create your own label at: http://oem.srsapp.com/ApplePoweredBysims/default.aspx
Computer Recycling and Reuse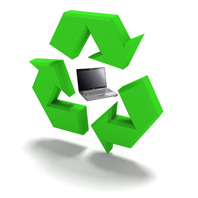 Computers are a major contributor to electronic waste (e-waste), posing a major disposal issue because they consist of numerous components which are toxic to the atmosphere.
The Institute for Local Self-Reliance estimates that 75 percent of outdated electronics are presently saved, which will eventually lead to an enormous disposal concern for the world. With ongoing innovations in technology, there's a growing opportunity to recycle computers, minimizing the quantity that end up in landfills. But before you consider getting rid of anything, make certain you've weighed all the options. Consider upgrading, donating, selling or recycling.
Upgrade Your PC or Laptop
So, your computer isn't performing well. What parts of it are not upgradeable, and what can be upgraded? A few of the primary upgrades can resolve the basic issues such as:
Lack of speed, space or memory
Problems playing video games online or from your hard drive
The inability to edit movies or record music
Outdated software or operating systems
Small images resolutions or screens
Video cards, more ram, hard drives, graphics cards and DVD burners are all components that can be added to computers to satisfy the above needs. Though a few of these upgrades cost more than others, they are more affordable than buying a new computer. However they may not always be worth their expense. Make sure you aren't installing a Rolls Royce engine into a Pinto body.
Donate or Sell Your PC or Laptop
If your computer is in working order, and you've just outgrown it, one of the best options is to sell it. Begin with your friends and families, and ask if they are interested in a usable computer. Also, there are lots of nearby non-profits, schools or outreach programs which could make use of such a donation. There are also websites such as freecycle where you could post it for someone to take off your hands.
If you are looking to put some cash in your pocket, try listing your computer on Craigslist or Ebay.
Recycle Used Cell Phones at New Orleans Technology Services
If you have an old cell phone that you'd like to recycle, feel free to bring it in to New Orleans Technology Services and we'll take care of it.